IAM members aren't the kind of folks to sit back and wait for things to come to them. They get out, put in the work and get the results they're looking for.
That's why IAM members are volunteering all across the country to get labor-friendly candidates elected. By phone-banking, door knocking, attending debate watch parties or rallies, and participating in labor walks, they are talking to undecided voters and letting them know which candidates really support middle-class workers. Here are a few examples of Machinists working to make a difference…
IAM members doing voter outreach in Palm Beach, FL! @FLAFLCIO #1uVote pic.twitter.com/PrbNtOi1b1

— IAMAW (@MachinistsUnion) October 13, 2016
More than 200 union members from the IAM and over three dozen unions attended the rally hosted by Illinois Steamfitters Local 439 at the Gateway Grizzlies Baseball Field in Sauget, IL:
IAM members were a force at the Democratic National Convention:
[youtube https://www.youtube.com/watch?v=pqyYjpCwd4Y]
Ohio union members turned out for a debate watch party at IAM District 54 in Columbus, OH:
#Machinists & other union members watching the second Presidential debate. pic.twitter.com/LEMTeTHP7C

— IAMAW (@MachinistsUnion) October 10, 2016
Machinists go door-to-door in Pennsylvania:
The union vote is critical. We're revving up our ground game in the final days of #Election2016 https://t.co/Rrh2vDtTBW #1uVote pic.twitter.com/aroF1sKXgW

— AFL-CIO (@AFLCIO) October 19, 2016
Volunteers at IAM Headquarters hit the phones to call members in battleground states.
IAM members signed the #TrumpWall outside Trump's Las Vegas Hotel yesterday. Negotiate with @Culinary226 , @realDonaldTrump . pic.twitter.com/g161Cnnys4

— IAMAW (@MachinistsUnion) October 20, 2016
Grand Lodge Representative Javier Almazan speaks to union members in Palm Beach, FL about the importance of electing labor-friendly candidates.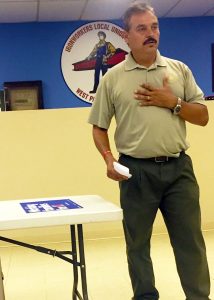 The post IAM Members Making a Difference in 2016 Election appeared first on IAMAW .